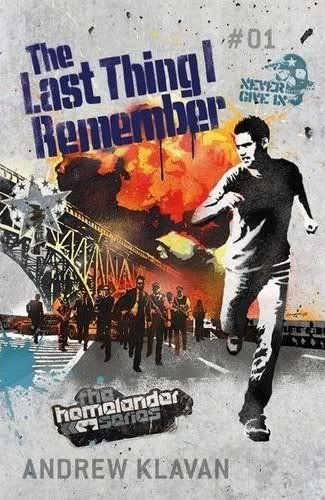 Synopsis:
Charlie is a squeaky-clean high-schooler who gets good grades, dreams about joining the Air Force, and loves practicing his karate - and it's this last skill that comes in especially handy when he wakes up tied to a chair next to a tableau of torture instruments. In an attempt to understand how he landed in such dire straits, he flashes back to the last thing he remembers: a seemingly typical day at school. The excitement plateaus once Charlie escapes and realizes that he's wanted by more than just a band of terrorists, but the chase scenes, gunfire, and fistfights never let up.
What a thrilling read! I must say, this is one of the rare few books that I literally could not put down. Especially the sequel. I found this book everything a good book should be: engrossing, humorous, thrilling, scary, and uplifting all in the same breath. Charlie is a hero you really enjoy reading about.
Age Stamp:
Charlie is an awesome hero. He is a Christian, a church goer, and a doer of the Word, he has high moral standards, and he lives his life according to what he knows is right. All the way through his troubles, he stuck by his faith in the Lord, something I was desperately hoping he would do. This book encourages great faith, courage, and loyalty, as both Charlie (and his friends) stand by each other through thick and thin. It also makes you think: who are the "good guys"? Very enlightening.
I must admit, I can't think of many, if any. He does describe his ex- friend's bad habits since he's fallen into bad company, but nothing explicit. There is a bit of violence, blood, and shooting, but it is not done with horrific detail.
Publisher info, Other Versions, Series Titles & Curriculum:
These books are published by
Thomas Nelson Inc, 2009. So far their are two titles in the series:
1. The Last Thing I Remember
There is a third coming out on the 2nd of November, "The Truth of the Matter", and a fourth is scheduled to come.
Violence:[#] [#] [#
Fear Factor: @ @
Romance: <3 <3
He has a girlfriend, but only a few simple kisses.
Language: 0
Christian: (Sort of)
Mature Themes:0
Synopsis:
When the Knights Templar ride through the Abbey on their way to battle, the orphan Tristan suddenly finds himself made squire to Sir Thomas. While being a squire is exciting, it is also dangerous, as Tristan gets caught between rival knights desperate for power and is entrusted with the most sacred relic - the Holy Grail. With the chaos of war around him, he teams up with some unlikely allies. But even with their help, can Tristan safely bring the Holy Grail back to England? Or will he succumb to the dangers of those who follow in its wake?
My Review:
I'm a great lover of anything remotely medieval in fiction, but it must be well written and captivating. This book delivers both. An array of colourful characters from unexpected places, descriptive settings and a thrilling plot, if you are after a book that engages historical imagination and battle intrigue, this book is for you!
Age Stamp:
Pros:
This series is actually very insightful to medieval history. It goes into detail the route King Richard took from England to the Holy Land, where they faced each battle, and where the battle was lost. The story characters show bravery and wisdom when making decisions, and Tristan often shows mercy to victims of the war. He is a good example to his hasty friend, who takes a far too direct approach to surviving the tempestuous state of the country.
Cons:
The Holy Grail has been idolized a little in the series, having the power to protect it's bearer from danger with a loud ringing sound. Although the Lord is spoken of, He has not been made the primal focus of the story. There is a bit of cursing, but nothing too bad.
Publisher info, Other Versions, Series Titles & Curriculum:
These books are published by Puffin; Reprint Edition (September 2009) There are two titles so far in the trilogy:
1. Keeper of the Grail
2. Trail of Fate
and "Orphan of Destiny" is scheduled to come out on the 28th October 2010.
PLEASE NOTE:
The first two books end on serious cliffhangers, so unless you are a patient, unenthusiastic, disinclined reader, it may be best to wait for the third's arrival. (Or else be an impatient, over-enthusiastic, "hurry up and gimme the book!" reader like I am. =P)
My Ratings:
Violence:[#] [#] [#] [
Fear Factor: @
Romance: <

The tiniest inkling between two characters
Language: [!]

Tristan's hasty friend, to thank.
Christian: (Sort of)
Mature Themes:
My Rating: *****
Synopsis:
In an evocative and fast-paced adventure on the high seas and on a faraway island, an orphan boy named Peter and his mysterious new friend, Molly, overcame bands of pirates and thieves in their quest to keep a fantastical secret safe and save the world from evil. Best seilling authors Dave Barry and Ridley Pearson have turned back the clock to reveal the wonderful story that precedes J. M. Barrie's beloved Peter Pan. Peter and the Starcatchers is brimming with richly developed characters, from the scary but somehow familiar Black Stach and ferocious Mister Grin to the sweet but sophisticated Molly and fearless Peter. Page after page of riveting adventures take readers of all ages on a voyage from a filthy, crime-ridden port in old England across the turbulent sea. Aboard the Never Land is a trunk that holds the "greatest treasure on earth" - but is it gold, jewels, or something far more mysterious and dangerous?
Roiling waves and raging storms; skullduggery and pirate treachery provide the backdrop for battles at sea. Bone-crushing breakers eventually land our characters on Mollusk Island - where the acton really heats up.
This impossible-to-put-down tale leads readers on an unforgettable journey - fraught with danger yet filled with mystical and magical moments.
My Review:
This is actually an amazing precurser to what we know the traditional Peter Pan to be. For those people who watch Peter Pan and grumble at how could a boy fly, why do they never grow up, and how did an island such as Neverland ever come into existence, this is the book for you! Like a background check on Peter, it shows you
exactly
when, what, and why all these things happened.
Age Stamp:
Pros:
Peter is a very brave lad, and often shows feats of remarkable courage and wisdom in keeping his word and saving his friends. Molly is very dedicated to the mission that has been set by her father, and it is admirable to read her sticking to what she knows best. The story is very colourful, with very original characters, and amazing settings. The magic is in the form of starstuff, illuminated substance that forms when a star falls to earth, which is very powerful. It contains a mischievious humour, the bumbling baddies often made me laugh!
Cons:
As the books progresses, there are shadowthieves, ghostly beings made from shadows, and when they steal a person's shadow they can control that person. They are depicted as the evil ones in the book, and are eventually conquered, however this may be something you would prefer to avoid in your literature reading. There is a bit of violence, especially with indians on Mollusk island and Captain Hook's crew. (or Stache, in the first book) There is also a skeleton kind of creature that is a little creepy.
Publisher info, Other Versions, Series Titles & Curriculum:
These books are published by Disney Editions (August 30, 2004) and so far there are four in the series:
Peter and the Starcatchers
Peter and the Shadowthieves
Peter and the Secret of Rundoon
Peter and the Sword of Mercy
I think there may be a fifth coming out. (just heresay so far)
My Ratings:
Violence:[#] [#] [#] [
Fear Factor: @ @ @
some aspects of the later books are a bit scary for children.
Romance: <3 <
Language: None, unless you count "Shut up, Smee!!"
Christian: (no)
Mature Themes: X
My Rating: ***`